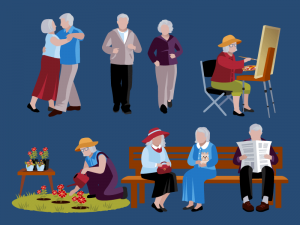 Dr. Ann Christine Frankowski of the Center for Aging Studies has spent the past 13 years conducting research on assisted and independent living, nursing homes, and adult day service centers. Funding for this work was first awarded to Dr. Frankowski and Dr. Robert L. Rubinstein by the National Institute on Aging (NIA) in 2010 and is managed through the Maryland Institute of Policy and Research (MIPAR). Following a five-year study of autonomy in assisted living and a concurrent grant on autonomy in dementia care units, they have been privileged to receive six NIA grants, also administered by MIPAR, which focus on:
(1) programing effects on clients in adult day centers as well as
(2) programming specifically targeted to clients with dementia,
(3) strategies for managing residents with dementia in assisted living,
(4) LGBT perceptions of, and attitudes toward, long term care,
(5) managing intimacy among residents with dementia in assisted living, and
(6) the effect of the culture change model on residents with Alzheimer's disease in long-term care.
Dr. Frankowski is a cultural anthropologist who provided direction in data collection and analysis in the field. The team (Mary Nemec, Gina Hrybyk, Michael Brazda, and Gretchen Tucker) conducted what is called participant observation. Researchers spent time at each field site helping out in the dining room, assisting with crafts and games, conversing with residents and clients getting to know them one on one to establish confidence and trust. Field-notes were written after each visit. Eventually they conducted open-ended interviews of staff and directors, residents or clients, and family members to get perspectives of daily life of aging Americans from all angles of the site. It was not uncommon for the researchers to stay in a field site for up to a year.
Participant observation and interviewing are crucial ethnographic tools for data collection. From these interviews and field-notes, her team is able to help other people understand what it is like to experience life in a long-term care community and learn about its problems and successes and limitations and advantages, without actually being there thus enabling individuals to make good choices on care.
As residents are entering assisted living older and more frail, Dr. Frankowski and the team explore how the staff and institutions adjust and adapt to changing needs, examine differences in caring for individuals with dementia, and understand the impact of change on staff as they are called on to do more and varied care work. Through their research, they are helping to paint a more accurate picture of what care for older adults looks like in today's world.